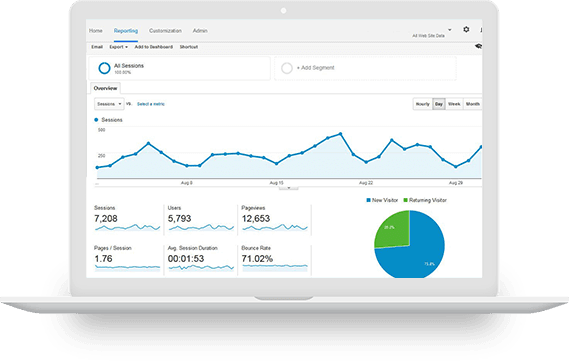 What is Search Engine Optimization
Why Is SEO Is Important For Your Business?
We tell you. According to a recent study, there are over 2 billion people online. 90% of the online activities take action with a search engine. There are 40K searches every second and around 3.5 billion searches per day. Today 96% of consumers search on the internet prior to any purchase and that's why you need SEO. Your customers are online. They use search engines on daily basis. In case you are wondering how a particular business appears for a keyword, you have searched, it is because of a marketing routine called Search Engine Optimization (SEO). That is the reason, you need an SEO company in Hyderabad that helps your website appear among the relevant searches.
WE MAKE YOUR LIFE BETTER
What difference does it make to my business?
Once upon a time, in 1941, the first American Television advertisement has aired. Thereafter, there has been a surge of ads on every channel possible. The marketers made use of every ideal medium such as Radio, Film, TV, Billboards, and Pamphlet to reach the masses. Lucky us, the technological advancements and sophisticated minds were drawn curtains to a whole new era – Digital Marketing. Now, speaking about the difference, through traditional marketing you advertise the whole world about your product regardless of their interests. But digital marketing let you choose the audience on the basis of their age, gender, location, area of interest, and more.
CHECK YOUR WEBSITE SEO SCORE
How Your Website Is Performing?
Unlimited Areas Of Our SEO Offering
We provide marketing services to startups and small businesses looking for a partner for their digital media. We work with you, not for you. We are on a mission to build, grow, and maintain loyal communities.
Link building is the process of increasing the quantity and quality of inbound links to a website which in turn helps to improve the search engine rankings of that website.
Keyword research is done in order to find popular search terms that people search in search engines like Google and optimize the website for those keywords.
On-page SEO is the process of optimizing the website landing pages in order to rank higher which helps to increase relevant traffic through search engines for the required keywords.
The Rank Position Tracking helps to track your website's ranking for different target keywords in the search engine organic results shows you how our optimization efforts help works.

Content creation is the way toward producing point thoughts that intrigue to your audiences and creating written or visual content around those ideas as blog posts, videos, infographics.

Rich snippets are the search results with reviews, FAQ's, events etc., that have a higher CTR. If the CTR of a search snippet increases helps you get more traffic from that search result.
So, why choose DigitalShout?
SEO is our bread and butter. Our SEO services certainly give you the ROI you never had.
The reason why anyone should choose DigitalShout is the fact that we work with you. DigitalShout treats you as our partner rather a client because we believe that when our business objectives meet yours, we will get the results we both want.
"Our SEO work is 100% focused on helping businesses like yours grow."
Since you are asking why you should choose us, we like to admit that our team is conscious of when to talk and when to listen. We believe the best conversation happens not when we try to talk well but when we try to listen well and the best conversation leads to the best understanding of your inputs or requirements. For that reason, we are sustaining as one among the leading SEO agencies Hyderabad that prefer to communicate clearly.
We unleash insights. For DigitalShout, insights do not mean just an excel sheet of data, it is all about understanding the sentiment and nature of what's happening with your project. They will be straight-forward and super transparent. The best way to transform plans into results is to understand the emotions behind the data and that's what we are good at. Blowing our own trumpet? Don't think so. You can talk to our clients. And, oh, one more reason. DigitalShout ensures to maintain all the marketing reports in plain English terms. Simple, subtle, and crisp.
Still figuring out whether you need an SEO company in Hyderabad?
Our team of experts are ready to help you. Why don't we just talk? We are a call away.