The Complete Social Media Marketing Agency
Social Media Marketing Refers to the Process of Gaining Traffic
Social media – is a term that does not need any introduction. It is a central piece in turning a business into a brand. Social media marketing is a must-have weapon in your arsenal. In this digital age, if your business is not online, odds are your business is non-existent to the customers. Social media platforms are where the end-users hang out more, which is why you've got to be there. Digital Shout is an advanced social media marketing company in Hyderabad that has set many internet trends and conducted several viral campaigns for our clients.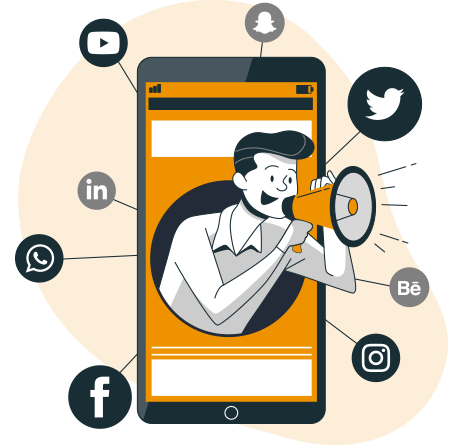 Unlike other marketing methods, social media advertising gives you the freedom or luxury to choose your target audience. Through this approach, you can reach people of all ages, interests, and locations of your choice. Remember, when it comes to advertising, one-size-doesn't-fit-all.
Social listening is the process of monitoring your business's social media channels ranging from customer feedback to stalking the lifestyle of your customers. Digital Shout looks above and beyond the audience demographics analyzes their interest, attitude, and timings, and the competitors' behaviour.

Social media advertising is cheaper than traditional advertising as you do not need to spend money anywhere unless you go for paid promotions. Sign-up and creating a business profile are almost free for all social media channels. Being a well-known social media agency in Hyderabad, we do not want you to do extensive in the first go. We start small to let our clients know what they can expect from us. Once we get the insights of the first campaign, upon your approval, we will significantly fine-tune the strategy to increase the conversion rates and return on investment.
Gone are the days when customers need to go through yellow pages or classifieds in newspapers to get in touch with a business. Thanks to social media, any customer can contact customer service within minutes. On the other hand, companies can also get reviews and ratings from customers more than ever before. When you interact with your customers on a one-to-one basis on social media, it makes them more loyal, and loyal customers stay!
But, why social media? Why should I get social media services?
If the internet can connect everybody, it is social media that brings people together all across the globe. Social media platforms have become platforms where people can interact with another region irrespective of the timezone. It is popular, really, really, popular. We swear. According to 2019 Social media statistics, there are around 3.2 billion users around the globe, which is 42% of our total population on earth.
Further, social media knows no age barrier. The majority of the social media users are aged 18-30, and 34% of the users are aged 65 years and older. Therefore, no matter how young or old your target audience is, social media is the way to go. Digital Shout is a social media agency in Hyderabad with a bunch of curious, creative, and committed people. Let us make it clear. 
We Make Your Life Better
What difference does it make to your business?
Social media is growing at warp speed. The wave of social media channels is not going to stop any sooner. You can generate more business, connect with more customers, and build more relationships by giving your marketing strategy a little touch of social media.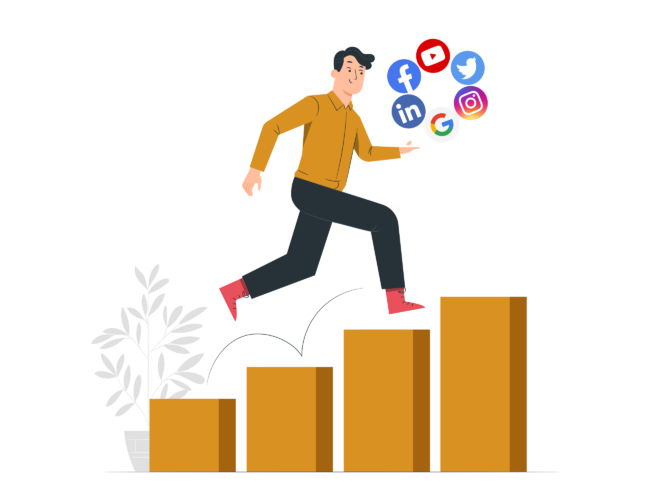 Our team of experts are ready to help you. Why don't we talk? We are a call away.