In the Digital Marketing world, the Advertising sphere covers most of your business insights through advertising on various social media platforms with effective SEO- (Search Engine Optimization) keyword research that impacts your website reach to wider audiences. SEM- Search Engine Marketing results for growth of insights of your website in SERPs- SEARCH ENGINE RESULT PAGES.
DIGITAL ADVERTISING
Digital Advertising benefits the business through how a company ladders the communication between consumers via social media platforms, websites, digital channels, email, and so forth. Digital advertising is Online internet marketing for better promotion of brands and products, and services. They plan to advertise for either paid to google ads as pay-per-click via SEM and for also unpaid with SEO.
WHAT IS SEO?
SEO is a SEARCH ENGINE OPTIMIZATION that impacts the website search results growth by adding potential quality and quantity to your site. SEO builds the insights and rankings of your website/webpage search results that drive traffic in search engines like google & so forth. Optimization boosts the search engine of content pages out-turn with speed, images, and other info based on the content keyword search queries relevant to products and services.
TOOLS FOR SEO –
The SEO tools are essential to improve and generate traffic for better search results, rankings, and insights of the website or the web page. Such as:
Growth Bar
SEMrush
Sitechecker
Ahrefs
Serpstat
Advanced Web Ranking.
Keywords have to be rooted in the necessary locus that helps and intensifies the search results based on the potential content provided for the particular search engines regarding products, services and brands, and other info.
SEM- SEARCH ENGINE MARKETING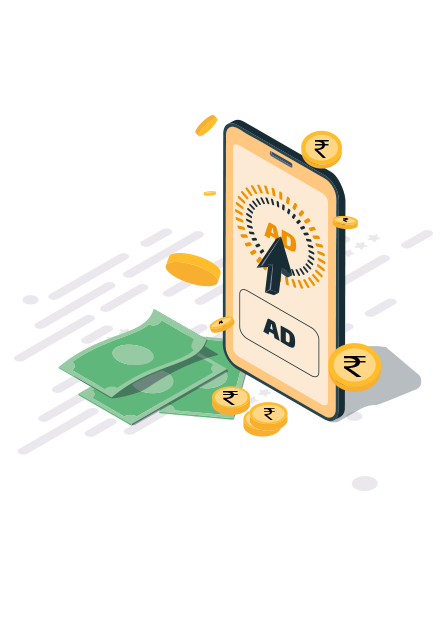 WHAT IS SEM?
SEARCH ENGINE MARKETING is one of the digital marketing strategies to handle website search results. SEM performs the vital strategy via paid advertising for better reach for the webpage and website. SEM is also well known as PAY-PER-CLICK (PPC) and improves the insights of a website through search engine results pages (SERPs).
Many businesses take beneficial factors to enhance their brand, services, and products via paid advertising that provides the display of their website alongside the search engine results the user faces. SEM performs to attain the betterment of SERPs- Search Engine Results Pages with respect to the website or webpage via paid advertising about the brand, services, and products of the business.
The advertisers utilize the salient specific keywords for the advertisements that offer paid advertising to display along with the search results of the user's face who searches for certain products or services with SERPs Search Engine Results in Pages via paid advertising.
Substantially, Advertising on digital platforms is internet marketing be PAY PER CLICK advertisements. It consists of various configurations such as Text-ads, Visual ads, Products, and Services. And PLAs – Product Listing Advertisements also refer to as online shopping Advertisements, to gain more attention from the user facers besides their SERPs- Search Engine Results Pages based on the consumers to catch sight of the particular products, services, and reviews on the search page result.
ABOUT HOW SEO DIFFERS FROM SEM
SEM search engine marketing is cited as paid search engine marketing via advertising, business marketing networks choose the best to pay Google Ads to exhibit their Ads in along with search results of the users face as regards relevant searches.
SEO search engine optimization differs from SEM- search engine marketing. Businesses are not paid for their advertising to any google ads regarding the traffic to scrutinize for ads and clicks per ad. Instead of paid advertising via google ads as pay-per-click, SEO performs to earn a free spot in the SERPs search engine results pages by encountering the most relevant content for search engine's keyword searches.
SEO AND SEM IMPORTANCE IN THE DIGITAL MARKETING WORLD
The foundational ingredients of digital marketing must add the features of SEO and SEM as it builds your online marketing business strategies. SEO is solely handled to reach the high rankings that drive traffic. SEM search engine advertisements are a very expensively effective way to drive alters from the grounds of the search engines.
Keywords ought to be precisely relevant data of the business strategy which upshot in the using the search engine marketing propagandizing the products and services. Keywords are capable enough to represent the needs by the analysis of the needs of consumer perspectives and sources based on their search query content. Keywords must use fixation to be well relevant to your business services, products, and so forth.
KEYWORDS play a potential role in the roots of search engine marketing. When users face prefers to search about any particular product or service through keywords in search queries, checking for more detailed info via search engines helps them to discover their required results of the keywords in the framework based on search engine marketing simultaneously advertising strategy.
FREE KEYWORD RESEARCH TOOLS
WordStream's Keyword
Google Keyword Planner
Ubersuggest
Moz Keyword Explorer
Google Trends
SEMrush Keyword Magic Tool
SpyFu: Free SEO tools
SEO tools scrutinize the potentiality of the web pages for high rankings of search results in SERPs search engine results pages. They impart information on BACKLINKS and KEYWORDS. Backlinks are very essential for SEO; it links your content with other resources of search content (of the user's face) to make it insightfully valuable enough to gain more recognition through links to link your content. The search engine holds the information of the website through the backlinks and the placement of the webpage rankings via SERPs. Search engines are utilized to turn up the content ranking state.
Digital Marketing denotes Digital advertising as internet marketing for various platforms such as social media like Instagram, LinkedIn, YouTube, and digital channels such as Search engines, Websites, Mobile Apps, and emails. Making utilize of all these online resources of digital channels and other social media platforms through advertising as in the process of making their business identifiable by the customers. These platform resources help to build the growth of digital marketing. Therefore, successfully run by the methods by which the company brands, products, and services are to be promoted in digital advertising.
Author: Sahya Sri Mekala